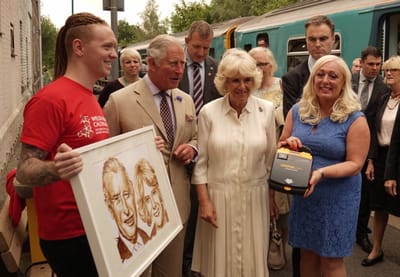 Nathan is lucky enough to be in a situation where he can use his artwork and name for many great causes, and often donates signed prints, and attends charity events. He is also an ambassador for anti-bullying charities as this is a subject very close to his heart due to his own experience growing up, along with becoming the Youth Ambassador for Pride Cymru, which see's him often giving talks and presenting events with them.
He's a big supporter of the work done by The Prince's Trust and he hopes to continue his work with them."
He was named one of the first ever patrons for the Cardiff & Vale Healy Charity. He has created several pieces of work for them, for galleries, auctions and events, as well as hosting them.
He is also patron for Welsh Hearts - where he does similar things, and has also presented to the likes of HRH Prince Charles, Ryan Giggs and Gareth Bale coffee art on behalf of the charity.
https://healthcharity.wales/nathan-wyburn-the-man-behind-the-nhs-mask-art/
Nathan is also widely outspoken about his struggles with mental health and often speaks to the media and via social media about combating it.
https://www.walesonline.co.uk/news/health/mental-health-day-time-change-17058330
Due to the global success of the first photography series "RED HOT 100", it's book and calendar, photographer/creator Thomas Knights asked Nathan to model for the 2nd series and book. The proceeds went to anti bullying charities as the aim is to change the stereotype and rebrand the image of Redheads. This is something that's close to Nathan's heart as it was a large reason for his bullying throughout his teenage years. Nathan now states "I used to be bullied for being ginger, gay, nerdy and creative. These are now things I love most about myself and have made me who I am today. I just wish i could've known that back then"
https://www.dailymail.co.uk/femail/article-3616492/Red-hot-Flame-haired-musicians-models-actors-strip-pose-striking-portraits-celebrating-unique-beauty-hair-color.html
In August 2016 it was revealed that Wyburn was placed at number 10 in "The Pinc List 2016", a list of the 40 most influential LGBT people in Wales. He has been on the list every year since. In December 2018 Wyburn was part of a team of people who presented a Christmas-themed drag show at St Andrews United Reformed Church, Roath, to continue fundraising for the building's vital repairs, ultimately preventing its closure. The event not just saved the building, but built further bridges between the church and the LGBTQ+ community. In September 2020 it was announced that Torchwood and Keeping Faith actress Eve Myles, was writing and going to be starring in a movie based on the story of the LGBT community coming to the aid of the church. Empty Room and Fulwell 73 are the companies behind the project. The movie has a working title of "Dragged To Church" just like the original event and will be based around several pivotal characters, including Nathan. It's set for a 2021 cinema release.
Nathan has participated in a number of different activities for charity including Zip Wiring off the top of Cardiff's St David's Hotel, spending the night in a prison cell, completing fun runs & shaving off all his long curly hair for Macmillan Cancer. Nathan also took part on the first ever YouTube live Stand Up To Cancer 12 hour event with other YouTuber's such as Joe Sugg & Caspar Lee, who Nathan painted using coffee during the event and auctioned live. Overall the day raised over £120,000. He has also displayed, created and donated artwork for auction to for many charities including some of the ones listed below.
• BulliesOut
• CapitalFM's Help A Capital Child Appeal
• Barnardos Cymru
• CRY
• Noah's Ark Appeal
• Cancer Research Wales
• Ty Havern
• City Hospice
• Reach Inclusive Arts
• Save The Children Cymru
• 'HHHO' Help Harry Help Others
• Wales Air Ambulance
• Dylan's Dream
• Velindre Cancer
• Stay Strong For Ow's appeal
• Stand Up To Cancer UK
• The Diana Award
• Macmillan Cancer UK.
• The Prince's Trust.
• Welsh Hearts
• Cancer Research Wales
• CDHUK
• Tenovus
• Cystic Fibrosis charities and many more.